Rebecca
I joined WIS after working with ASP Australasia as an International Surfing Judge on the Woman's Prime Tour Event

My employment with Blackwoods commenced in 2006 as a Picker within the Conveyor Team. I saw WIS as having a good reputation within the community, offering me a stable employment opportunity.

In the interest of expanding my knowledge of the company, I chose to work in various teams within the warehouse over the years. This enabled me to gain a better understanding of the complex processes involved in running a major Distribution Centre.

I made my way into the office and worked in a Customer Service position for a period of time, this allowed me to experience and learn more about the Customer Service/Sales side of the business. After being with the business for some time, I was asked to return to the warehouse and assist with improvements being made across multiple teams. I have since become a Team Leader within the Perth operation, assisting our current warehouse supervisor, whilst also leading a small team of 8 administration employees.

I genuinely believe that WIS provides a fair and equal working environment for all employees. If you possess the drive and motivation required, the business provides you a multitude of options which allow you to further your experience so you can grow into a leadership role. The support and opportunities available are vast within each division of the WIS group, allowing women to pursue and succeed in leadership positions.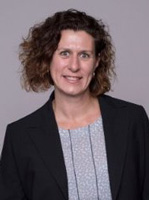 WIS will provide you with the opportunities and support to achieve your goals
Trudi
At the beginning of my career, I worked as a chartered accountant before moving into the consulting space both in Australia and overseas. I then decided to further my career and progressed into senior commercial roles across a number of different sectors. Following my commercial roles, I successfully secured and progressed into general management operational roles in industries such as recruitment and mining services before joining WIS.

I chose to join WIS because of the opportunities and support the business provided. WIS offered a diverse and interesting role with involvement across many parts of the business. I also knew WIS to be an employer which supported its employees and provided excellent prospects for growth and development.

I began my career with WIS in 2013 as a Regional Commercial Manager working closely with the branch network and the regional leadership team. My skills outside of the finance and commercial areas were recognised and I was promoted to the role of Regional Operations Manager in 2015. This role gave me the chance to broaden my remit and add value with significant impact on business results. In 2016, my performance was again recognised and I was promoted to State Operations Manager.

I believe WIS presents excellent opportunities for growth and advancement and provides the support to pursue these opportunities. I have been given the opportunity to participate in the WIS Development Program, as well as the Wesfarmers Executive Mentoring Program. As a senior business leader, I want to encourage women in WIS to pursue their career aspirations. It is not only possible for females to progress and succeed in senior operational roles, but it is encouraged and supported. Demonstrate confidence with a can-do attitude, and WIS will provide you with the opportunities and support to achieve your goals.