Wesfarmers Industrial and Safety (WIS) is the market leader in the distribution of industrial and safety products and services in Australia and New Zealand. With over 4,000 employees across Australia and New Zealand and numerous well known iconic brands we are well positioned for long term success.
Who we are
Greencap, a strategic business within the Division, provides innovative risk management and compliance solutions. Greencap has a vision "to be best in class" delivering value through practical solutions.
We have 300 professional, technical and engineering staff operating in 10 locations across Australia and New Zealand. Our national network enables us to serve our clients locally and be where they need us, when they need us.
What we do
We help our clients manage risk. Whether it is people, property or environment, our broad range of services provides our clients the advice, support and peace of mind they need to get on with business in a safe and sustainable way.
Our consultants provide expert services and can assist our clients with:
Our People
What makes Greencap people different is our technical industry expertise and talent. Greencap people are the best professionals in the business. We believe in customer first, integrity, openness, accountability and boldness. We do what we say we will do. We always measure results with facts, and we don't make excuses.
One of our 5 key goals that supports our vision is to have Best Industry People. To achieve this goal our staff (of all levels, regions and parts of our business) have defined the Greencap Employee Value Proposition (EVP). Simply put, this is a strong suite of reasons to work at Greencap.
Why people come?
People want to work with us because what we do matters. We offer our employees the opportunity to work in a dynamic, flexible work environment where they can learn and grow from working with a great team, technical experts and important clients.
Why our people stay?
We stay because we love to assist our clients with their challenges, and we value the opportunity to work in a collegiate and inclusive environment that supports our professional development. We stay because we have a great foundation and can see an even brighter future.
What we expect?
As a Greencap person we expect you to value the team and know that we are 'greater than the sum of our parts'. We expect you to do what's right, act commercially, deliver results, and have an unwavering commitment to our clients.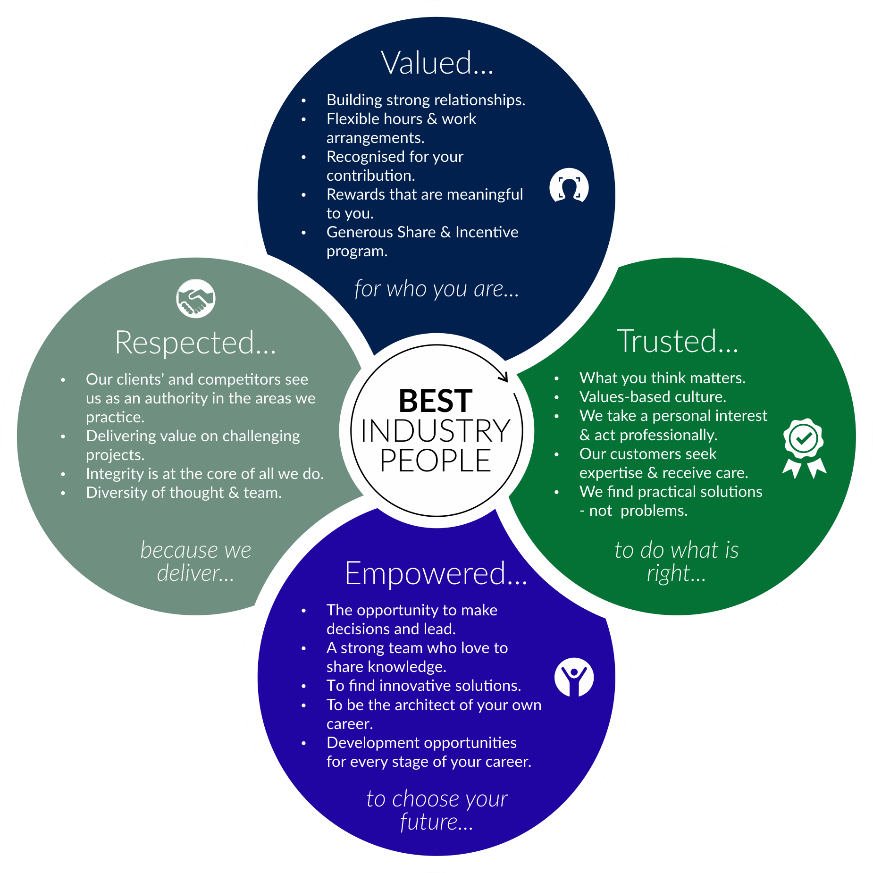 In short, we say Together we develop, deliver and grow.
We are currently on the cusp of an ambitious growth phase. It's an exciting time to be part of Greencap, a leading company with opportunities for great people to work with respected clients, and make a difference.