Coregas

Coregas is the only Australian-owned gases company. manufacturing locally and distributing compressed gases and cryogenic liquids around the country to almost all industries, ranging from heavy industry and manufacturing, to healthcare and specialty users such as laboratories.
Coregas manufacture gases in Australia and distribute across Australia and New Zealand. Most branches have storage tanks and filling facilities to ensure we can fulfil our next day delivery commitments on stocked gases.
The main air separation unit at Port Kembla in New South Wales is one of the largest in the Southern Hemisphere, separating air into its main component gases - nitrogen, oxygen and argon by distillation at cold temperatures. The plant supplies huge quantities of gas direct to BlueScope Steel's production facility and the rest is distributed to our other customers both in bulk as cryogenic liquids and as gases.
The team at Port Kembla also run our hydrogen production facility, which supplies BlueScope Steel and all our other customers' hydrogen gas requirements. An acetylene plant based at our head office in Yennora, New South Wales, produces high purity acetylene suitable for everything from instrument calibration to welding.
As an AS/NZS ISO 9001:2000 quality endorsed company, we aim for top quality in the manufacture, packaging and distribution of our gases. All our medical gases conform to Therapeutics Goods Administration (TGA) licence requirements.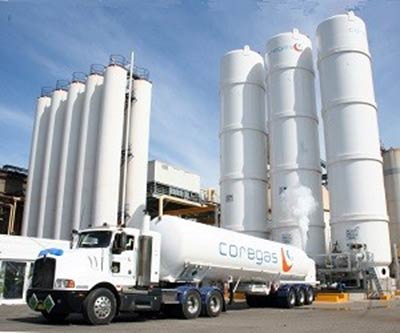 Click here to visit the Coregas website